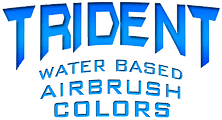 TRIDENT is a revolutionary waterbased airbrush paint that provides premium performance results.
It was designed with the highest expectations and is a pleasure to paint with. TRIDENT airbrush paint was designed to paint as well as any top performing urethane/solvent-based paint…and it does!
​It paints just like a solvent based product (without the solvent smell) It is a waterbased paint that actually atomizes.
​TRIDENT can be used on multi – surface applications. It is suitable for most prepared substrates including hard surfaces such as primed metals and sealed timber, medium surfaces like paper and board through to fabric and textiles. For automotive applications TRIDENT is completely safe to clearcoat over with any modern automotive urethane clearcoat
TRIDENT airbrush paints perform just as an airbrush paint should, providing great coverage and stability over larger areas while also providing exacting details from the finest of guns including superfine 0.18mm nozzles
TRIDENT colours are a carefully selected range of colours that are great on their own but will still mix cleanly and effectively to give a rich vibrant and extremely extensive colour palette.
TRIDENT paints are of exacting quality and offer superb flow and control, are UV stable with brilliant colour and performance.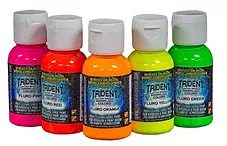 TRIDENT Airbrush Solid Colours
These solid colours mix cleanly giving you a vibrant and extremely extensive colour Palette.
Available as single bottles in 250 or 500ml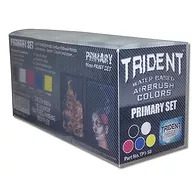 PRIMARY SET
3 x Primary colours, 1 x Black, 1 x White, 1 x Reducer concentrate (makes 500ml of reducer) 4 x empty mixing bottles.
Available as a 50ml set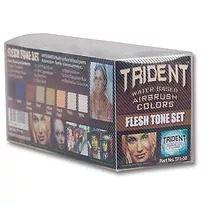 FLESH TONE SET
Flesh tone colours are specifically designed to produce beautiful life-like skin tones. The set includes 8x colours, 1 x reducer concentrate & 1 x transparent base.
Available as a 50ml set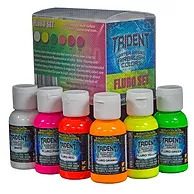 FLUORESCENT SET
Fluorescent colours are applied over a white base colour or white T-Shirt to achieve maximum fluorescence of colour.
Available as 5 fluorescent colours plus white available in a set of 50ml bottles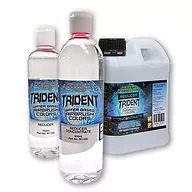 TRIDENT REDUCERS
Designed to maximise paint flow and minimise tip dry.
Available as a ready to use reducer or as a 9 parts to 1 concentrate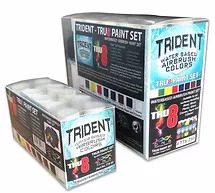 TRU8 SET
8 x colours, 1 x Reducer Concentrate and 1 x transparent Base. The TRU8 set gives you a rich and vibrant and extensive colour palette.
Available in 50ml and 250ml sets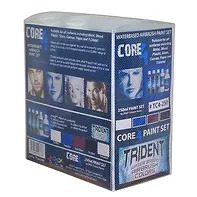 CORE4 SET
These are an essential set of 4 x colours & 500ml of reducer for the artist who wants to produce rich monotone artworks.
Available as a 250ml set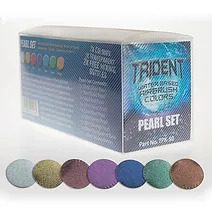 PEARL SET
7 x Pearl colours, 1 x Transparent Base & 2 x Empty mixing bottles.
Available as a 50ml set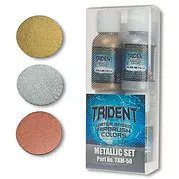 METALLIC SET
Gold, Silver and Copper plus a Transparent base. High metallic content with great coverage.
Available as a set of 50ml bottles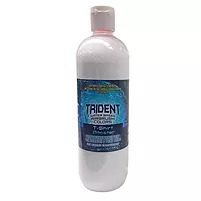 TRIDENT T-SHIRT BOOSTER
Minimises fade and wash out, sprayed on directly to the artwork on textiles then heat set in to lock in the colours.