Strength and Beauty for All Design Challenges OECE, a brand of The Sherwin-Williams Company, gathers every creative challenge launched by architects and designers for glass and wood coatings, with innovative aesthetic solutions.
OECE designs, develops and embodies aesthetic visual communication solutions by studying materials and properties and environmental impact, always considering the relationship between the product and its user. Always attentive to the trends and evolutions of design, OECE interprets their languages and codes, anticipating their contents, capturing the emerging aesthetic lines and functional needs.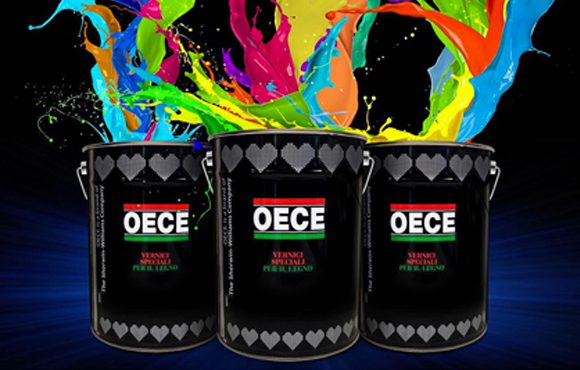 OECE was born in the early 1960s with the aim of innovating the world of coatings for the furniture industry, focusing on high aesthetic quality and application efficiency, respecting man and the environment. It immediately invests considerable resources in the search for high-quality products with very low environmental impact, concentrating on the formulation and the complete disposal cycle of low solvent products. In the 1980s he realized the first water-based glass coating system and defined a wide range of special effects; all major names in Italian design use OECE products.
For over 50 years the OECE brand is synonymous with quality excellence and reliability. OECE products represent the avant-garde in terms of aesthetic quality and durability over time, meeting any need for painting of glass and wood surfaces. The winning creative attitude of OECE, which shares the best ideas with the most prestigious international partners, continuously stimulates the most diverse design sectors. The endless OECE solutions bring to life the ideas of architects, designers, craftsmen and furniture manufacturers, giving new shape to colour and material and reinventing surfaces of objects with new optical and tactile effects.