DNA paints are made for you to create and customize almost anything. With so many different product lines and colour combinations the only limit to what you can achieve is your own imagination.
DNA paints are created here in the Southern Hemisphere (Melbourne, Austraila) for our harsh (UV) environmental conditions, this ensures that your colour creation will have the maximum colour vibrance and pigment hold-out for years to come.
Not only do DNA make the colour and effect finishes, but they also have an outstanding selection of support products such as Primers and Clearcoats enabling you to take your project from Bare steel right the way through to clearcoat (including everything in between)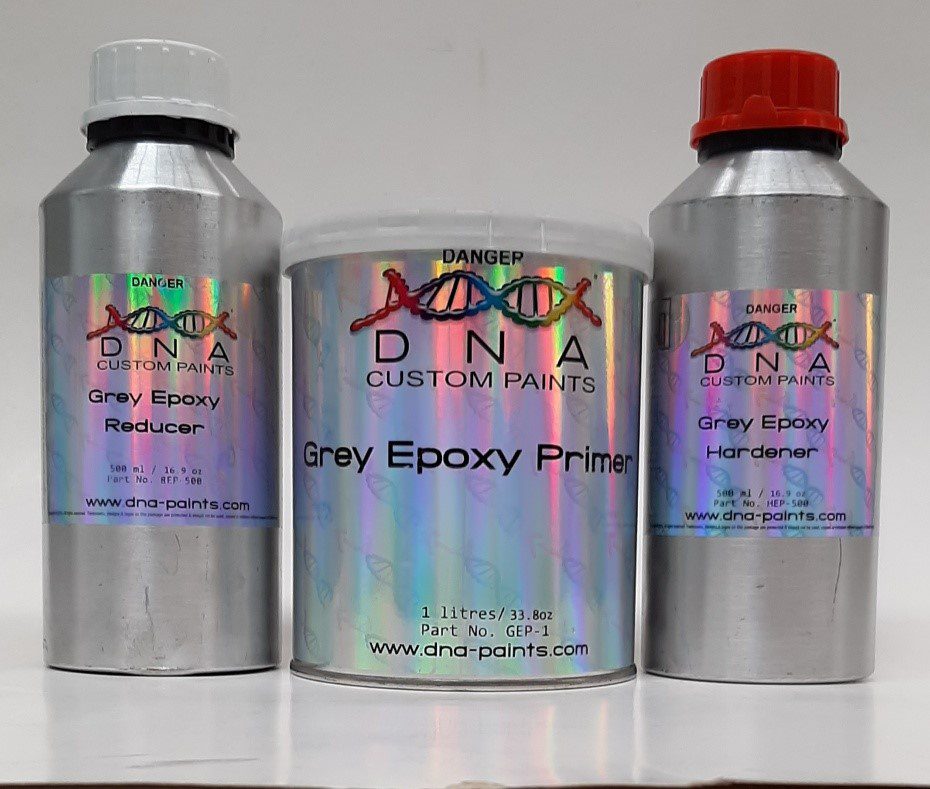 Epoxy Primer
A High Solid, (zinc chromate free) grey epoxy accepts all top coats, may be used wet on wet, possess very good corrosion and chemical resistance with excelllent adhesion on properly prepared metal substrate. One or two coats is all that's required for this versitile primer.
Available in 1lt and 3lt kits.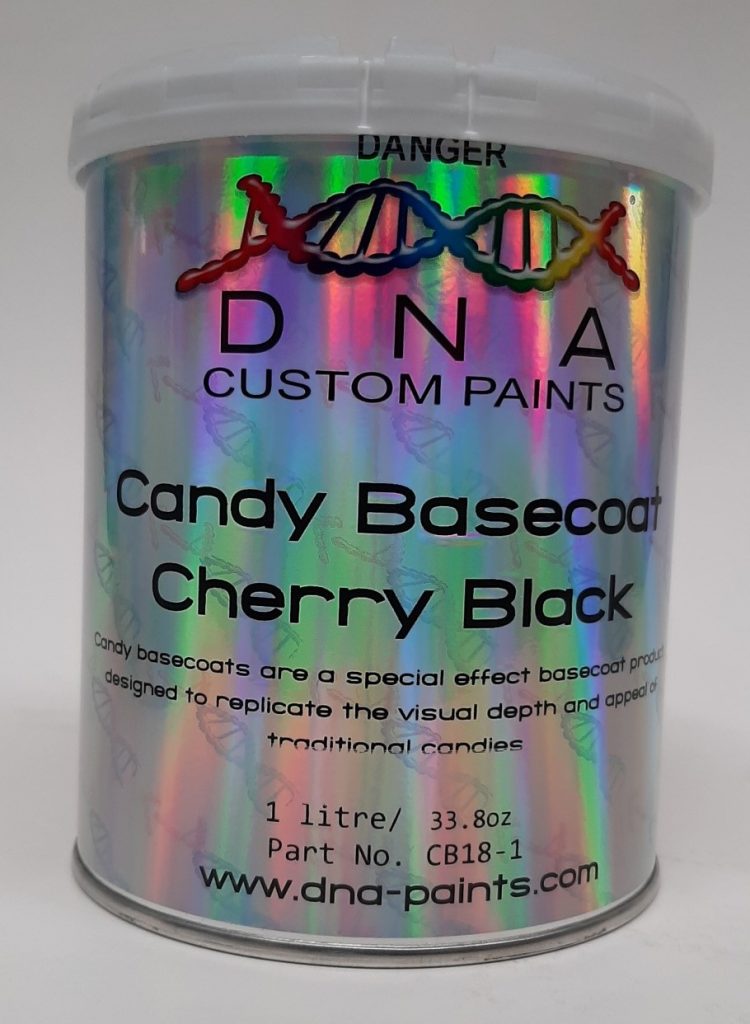 Candy Basecoat
Candy Basecoats are a special effetcs basecoat product designed to replicate the visual depth and appeal of traditional candies but by using the more standard application method of a traditional basecoat.Designed to be used over a solid white or black groundcoat, Candy Basecoats are an econimical alternative to traditional candies whilst still delivering maximum visual impact.
Available in 1lt and 4lt size. 14 colours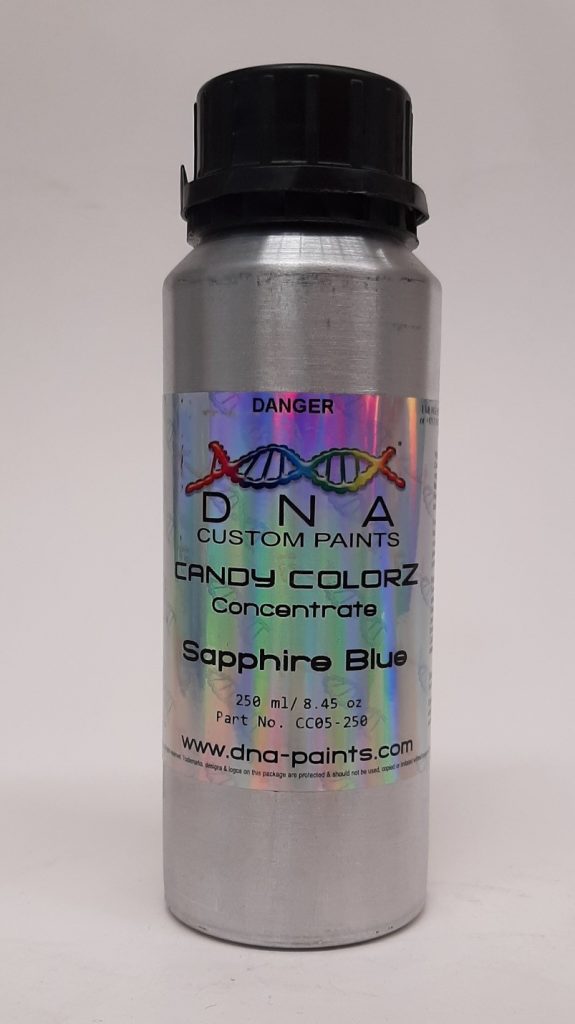 Candy Concentrate
Manufactured from the most intense and finest quality high strength dyes available, clean and vibrant. With your imagination you can create almost unlimited colour options Add just a little to your binder or clearcoat to create a sutle effect or add up to 10% for a more dramatic look.

Available in 250ml size. 19 colours.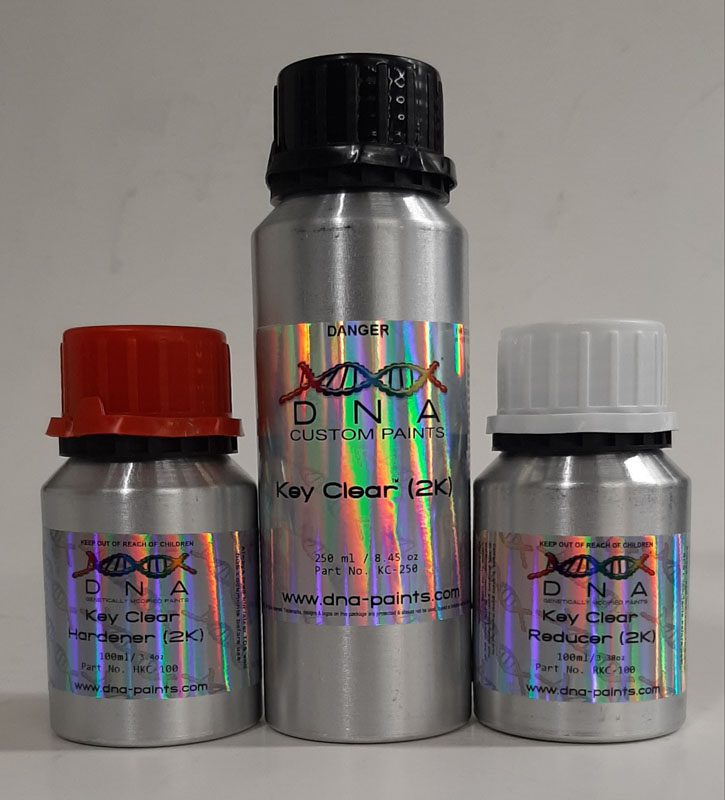 Key Clear
Key Clear is a specialist epoxy clear coating designed for use with special coatings such as Virtual Chrome, HolaGrafiX and HolaspeX to allow proper bonding and maximum adhesion. Key clear has been vigorously tested and passes full cross hatch adhesion test.
Available in 250ml, 500ml and 1lt kits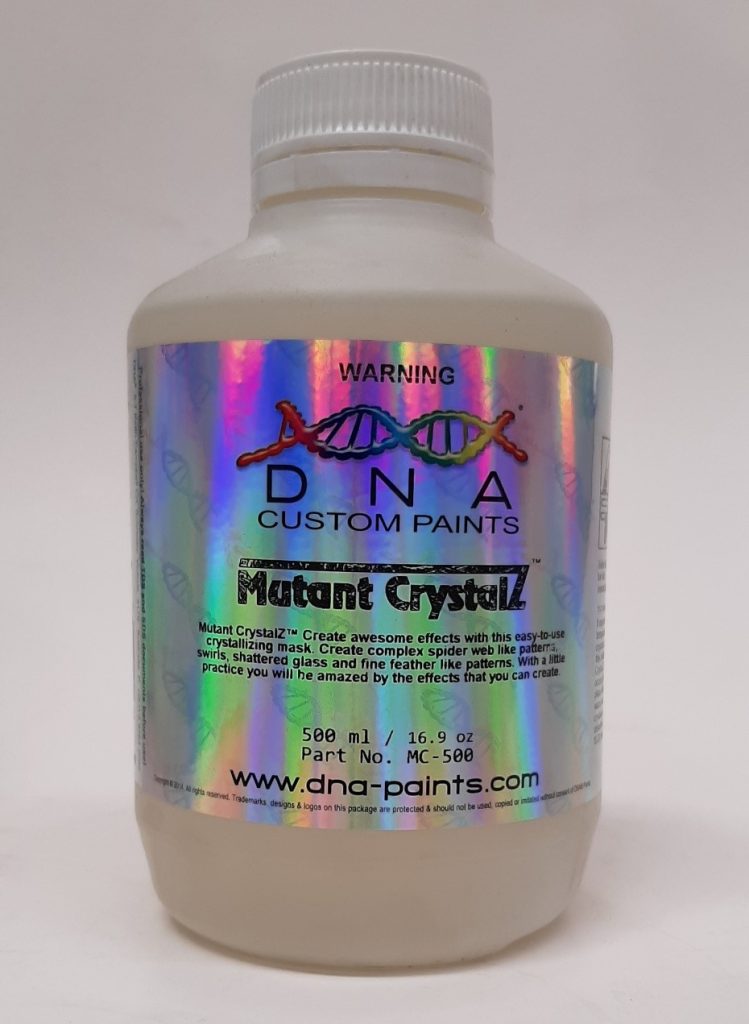 Mutant Crystal
A hydrodynamic self activated liquid mask giving you the ability to create unique and dramatic patterns and effects. So simple and easy to use, adds interest as well as creating intrigue. Works over sanded clearcoat, BasZecoat or Intercoat and achieves full crystallization in approx 10-20 min. The most dramatic effects are created when using two colours of high contrast.

Available in 500ml or 1lt size.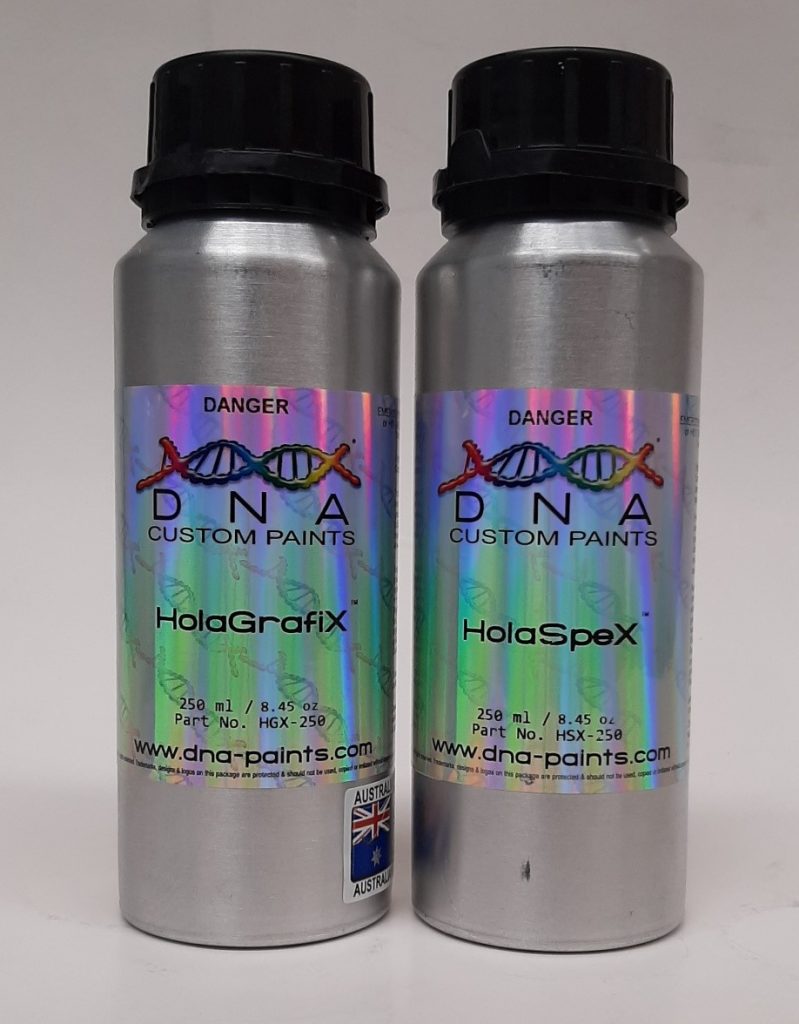 HoloGrafiX / HolaSpeX
A semi transparent coating saturated with light reflecting holographic pigments. In sunlight a brilliant rainbow effect is seen with continually changing colour accents adding depth and mystery to your finish.

Available as individual 250ml bottles, or as complete kits containing all the ancillary products required to create this effect.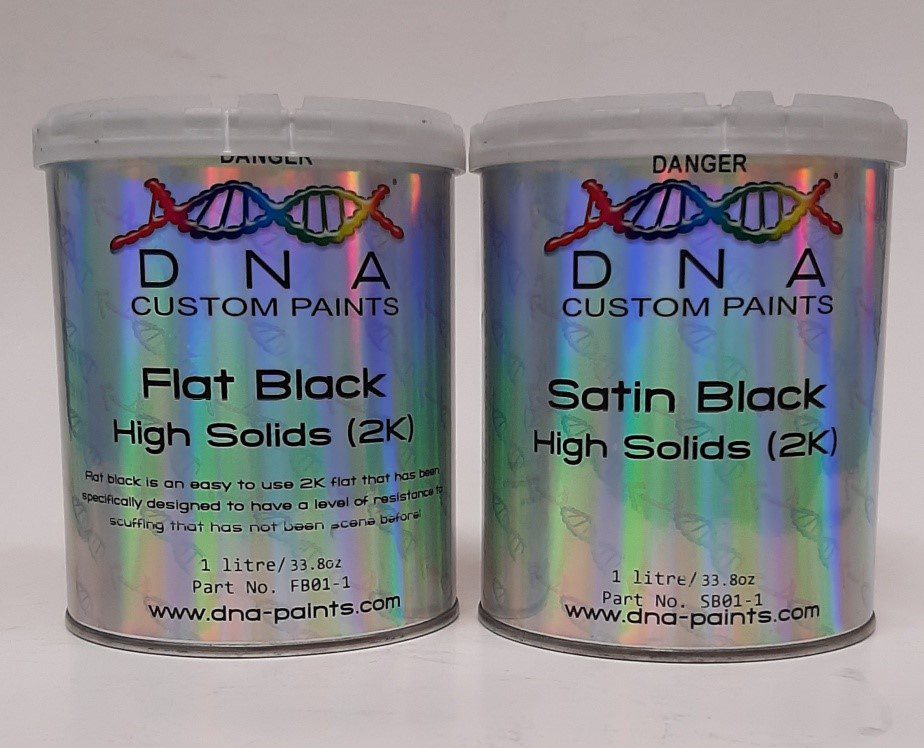 Flat Black / Satin Black
Easy to use Flat and Satin 2K blacks especially designed to have a level of resistance to scuffing that has not been seen before, providing a more durable flat finish.

Available in 1lt or 3lt kits.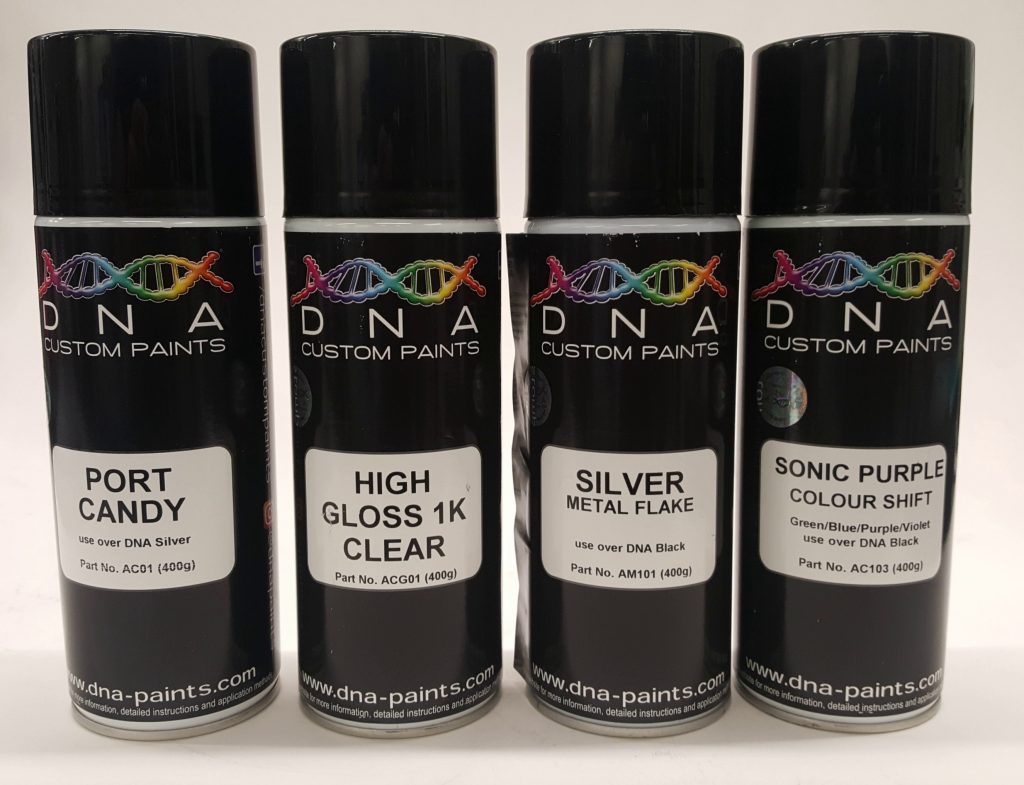 Aerosol Cans
Aimed at the DIY small job market DNA have an ever growing seletion of aerosols, colours inc Silver & Black BaZecoat, High gloss 1K Clearcoat, Silver and Gold metalflake, Candy colours, Colourshift colours as well as primers and surface cleaners.

Available as single aerosols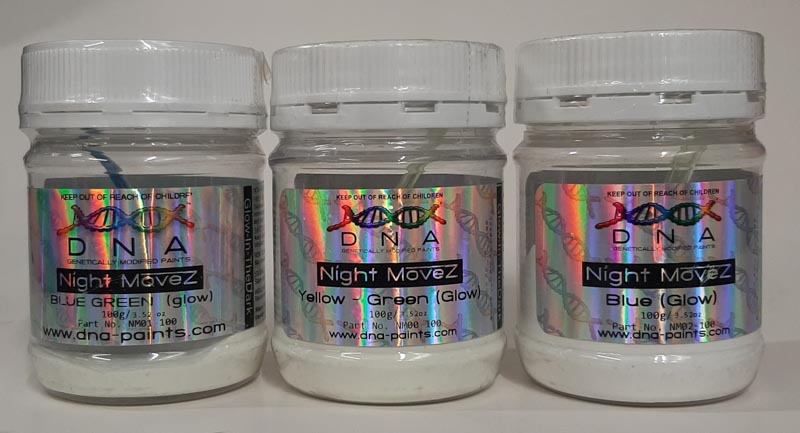 Night MoveZ
This is a next generation Strontium Aluminate glow in the dark powder that can be mixed in DNA clearcoat or Intercoat. Duration of the glow is directly dependant on the length and intensity of the charge and may glow for 10 or more hours.

Available in 3 colours, in 100 or 200gram jars.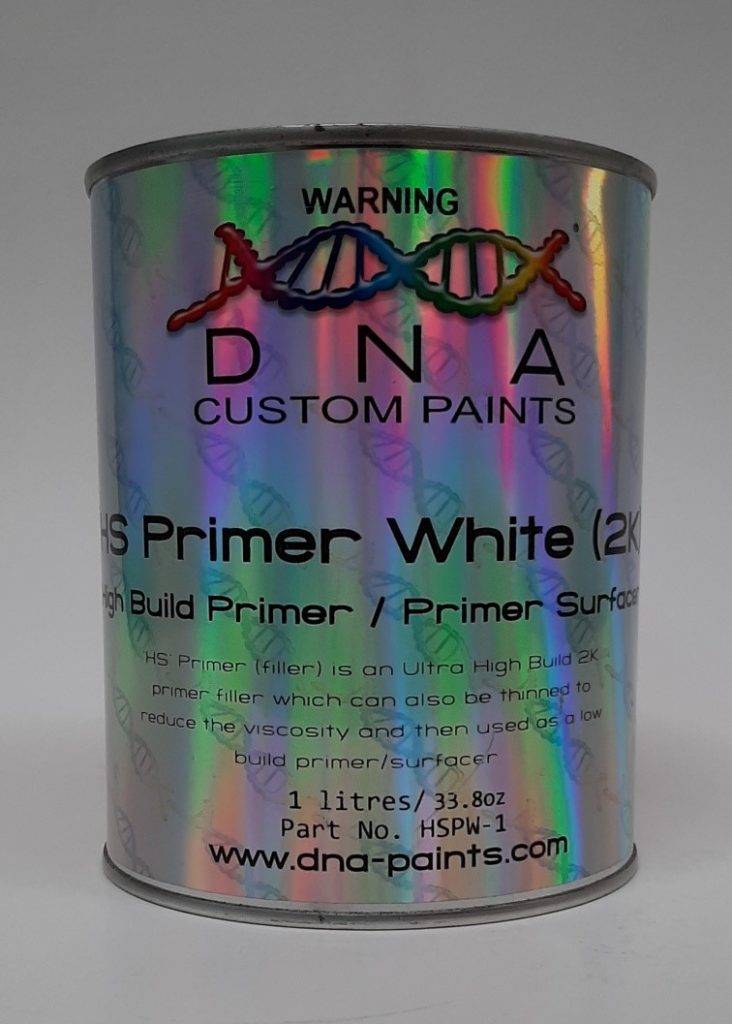 HS Primer Surfacer
A versitile High Solids grey primer that is designed to be used on a large varity of surfaces including suitably prepared plastics, ferrous and non ferrous metals, timber, craft wood and fibreglass. Quick drying and easy to sand. Also available as a white tintable primer to provide the correct ground coat colour where coverage is critical in achieving many of todays unique colours and effects.
Available in 1 & 4lt kits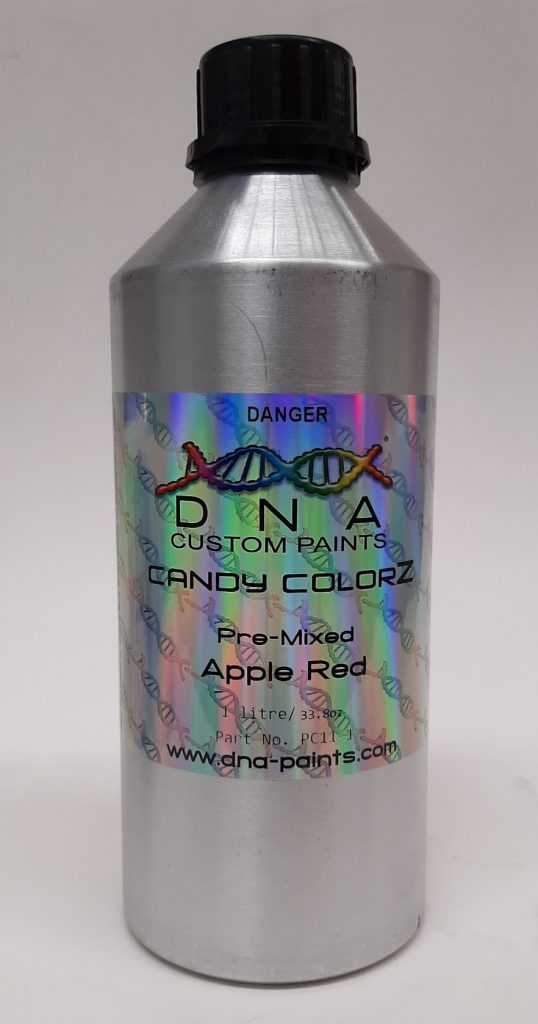 Candy Premix
Pre-mix candies are manufactured from the same intense and finest quality dyes as our Candy Concentrates to provide crisp clear colours like no other. No messy mixing, and when you buy another off the shelf can the strenght of the mix is always the same as the previous All that's necessary is to thin using DNA Candy reducer and apply.
Available in 1lt and 4lt size. 22 colours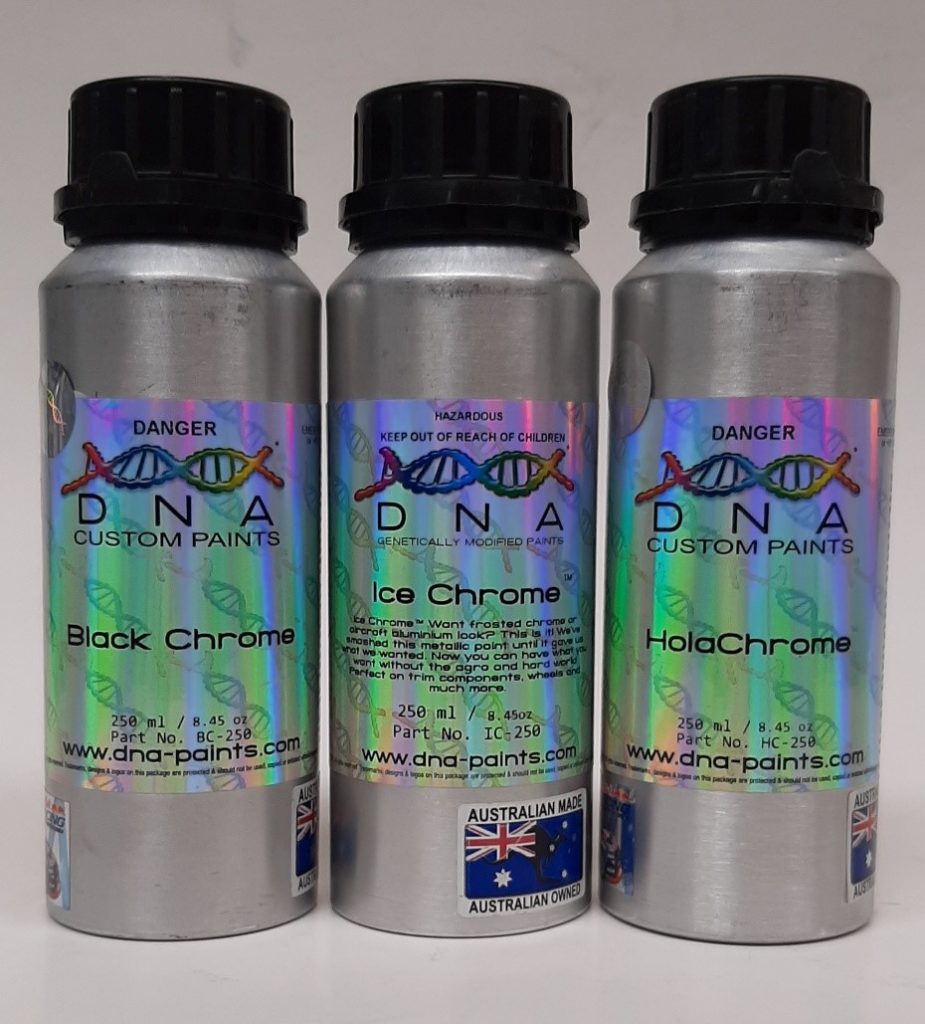 Virtual Chrome
Virtual Chrome represents the ultimate in durable metalized chrome effect paints, offering an exciting chrome like finish that can be applied to vehicles, wheels, trim componants, artwork, plastics, glass, almost anything that you can paint or imagine can be Virtual Chromed.

Colours: Virtual Chrome, Black Chrome, Hola Chrome and Ice Chrome

Available as individual 250ml bottles, or as complete Chrome kits which contain all the ancillary products required to create this effect.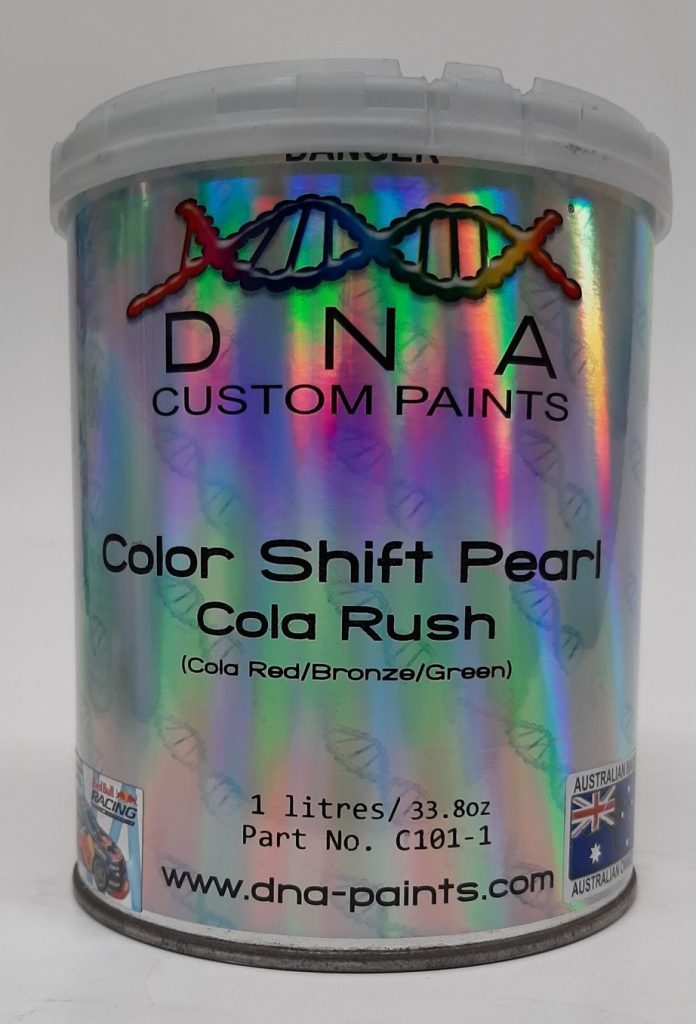 Colour Shift
A colour shifting paint with an extreme metallic look, designed to be used over black or white groundcoats. These colours have very clean colour transitions from one viewed angle to the next.

Available 1lt size only. 11 colours.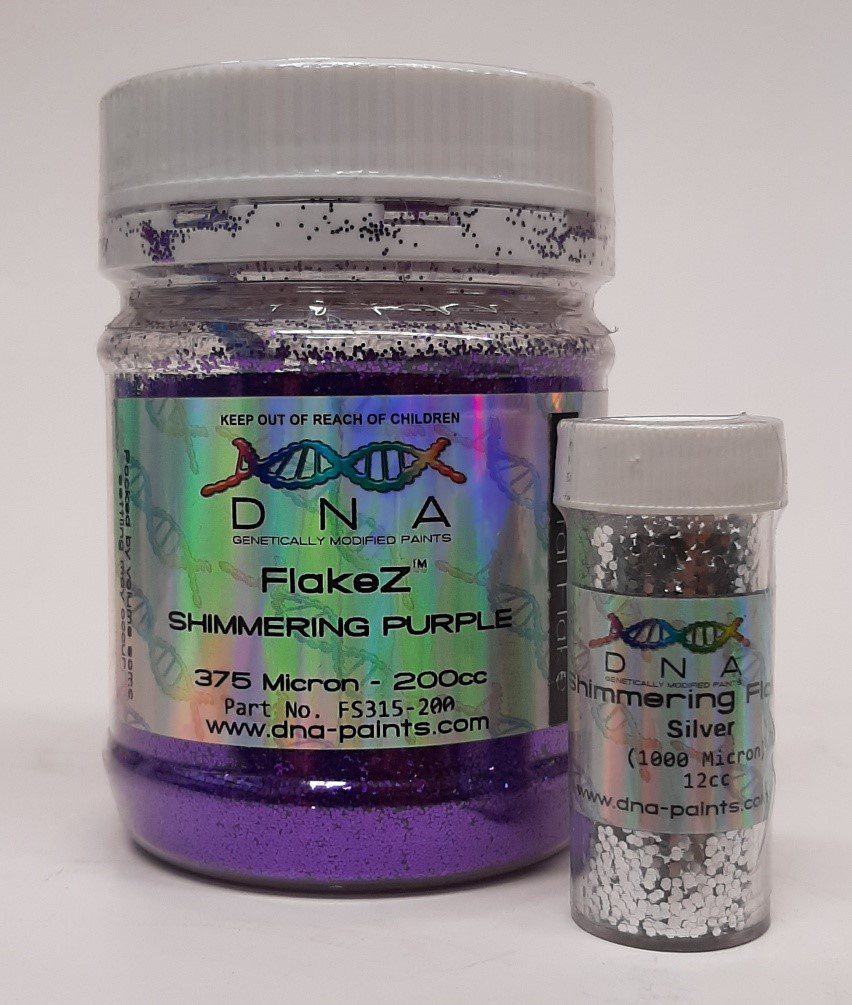 Flakes
The DNA FlakeZ range is huge, with something for every application. Available in four distintly different types, with a huge selection of different flake sizing, Shimmering FlakeZ, Hologram FlakeZ, Micro FlakeZ and Crystal Flakez. Mix them up to create unbelievable effects or apply Candy over the top.

Available in 12cc viles or 200g jars.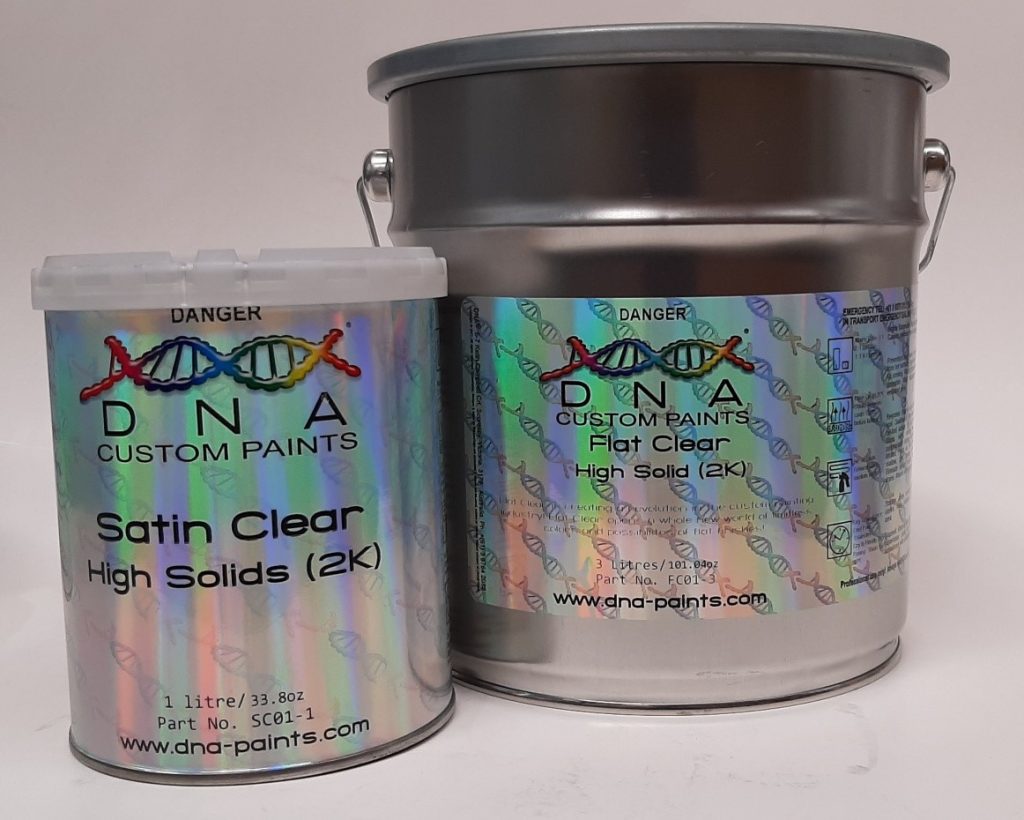 Flat Clear / Satin Clear
Simply the ultimate in Flat and Satin 2K clearcoats, especially designed to have a level of resistance to scuffing that has not been seen before, providing a more durable flat finish.

Available in 1lt or 3lt Kits.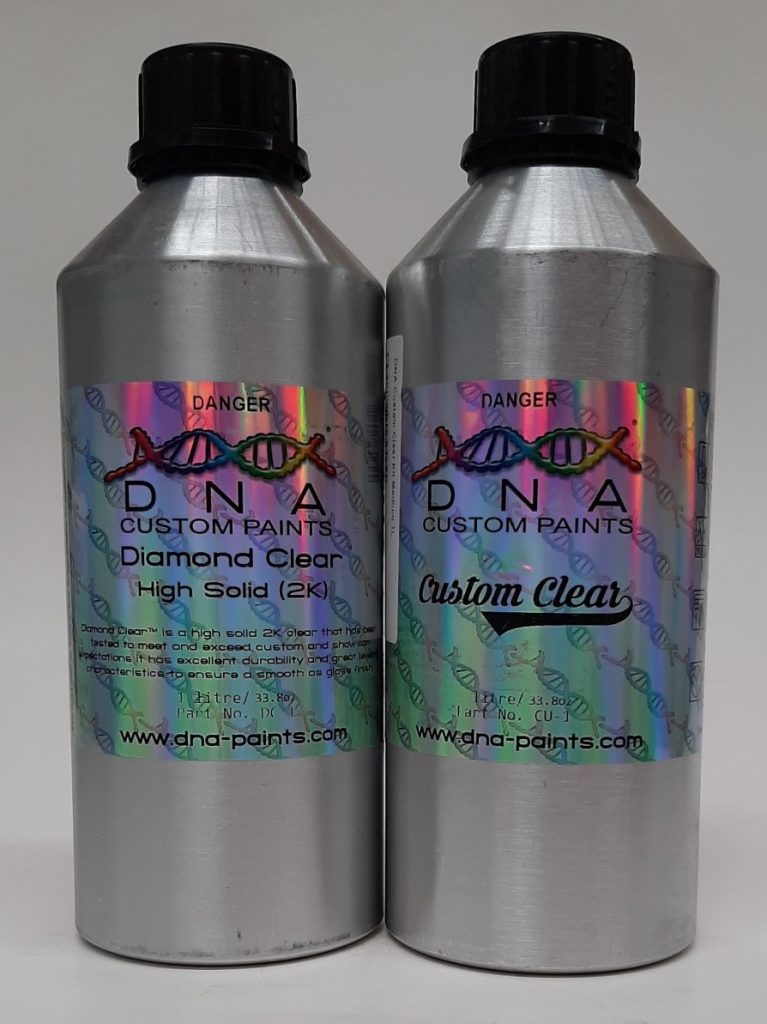 Diamond Clear / Custom Clear
Diamond Clear is a "High Solids" clearcoat that is deep, glossy and so reflective. Tested to meet and exceed custom and show car expectations for showroom gloss, shine and clarity.

Available in 1lt and 7lt kits.

Custom Clear is a "Medium Solids" clearcoat with extremely high gloss and super flat laydown perfect for any application especially flow coating.

Available in 1lt and 4lt kits.

Fluorescent Colours
A range of 5x BaZecoat fluorescent colours. These colours go over a white base and must be clear coated with a high UV resistant clear such as DNA Diamond Clearcoat.
Note: Fluorescent colours are not recommended for full time exposure to outside environments

Available in 1lt size only
Finished Products