DeBeer Refinish is a brand of Sherwin Willams, formerly DeBeer (Holland). DeBeer was founded in 1910 and has been manufacturing car refinish paints since 1951. In 1980, the present production site at Lelystad was opened and we now deliver to more than 100 countries worldwide from here. 1982 saw the launch of our colour mixing systems, followed by the first water-based products around the middle of the year 2000. With the introduction of VOC legislation for EU member states from the start of 2007, the WaterBase 900 Series system, in combination with the HS420 3000 Series, has now grown into a complete VOC compliant product range.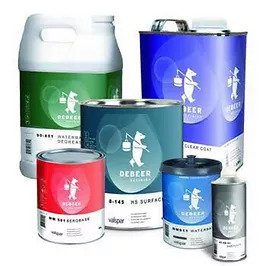 DeBeer Refinish' Vision
As a result of high levels of efficiency throughout all our operations, we are able to supply a worldwide range of compact, complete, and high quality vehicle repair paints at competitive prices. This ensures an ideal balance between price and quality. Our vision is to develop products that enable our customers to offer a cost-effective service thereby improving their own profitability.
Quality as a basis
Consistent quality of both products and working methods, combined with a responsible approach towards the environment, is guaranteed through the use of an integral "Health, Environment, Quality and Safety" system. This system is based on ISO 9001 (working processes) and ISO 14001 (environment) and is controlled and certificated by TüV Nederland. From these certifications, awarded in 1996 and 1999, it is clear that our objectives include controlling and guaranteeing the highest quality standards on the one hand, and minimal environmental pollution on the other.